a magical sculpture garden in the old city….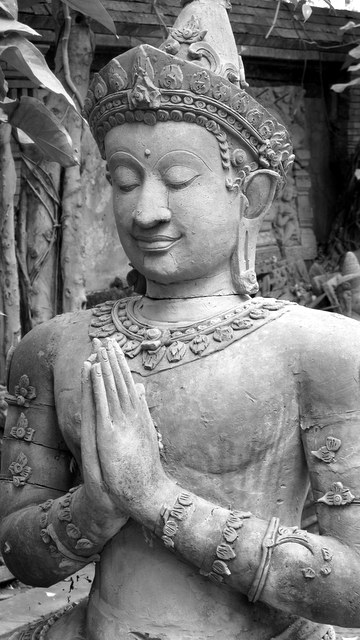 Most mornings I wander around the city exploring, taking photos and getting myself familiarized with my new home.  I poke in and out of little streets (called Soi), some of which, are narrow enough to be thought of as an alley.   Invariably on these wanderings, I find something to peak my interest…but sometimes I find something quite amazing
This week I found a secret garden!  A terracotta fantasy surrounded by high brick walls and filled with sculptures, bas-reliefs, lanterns, tiles and lush tropical foliage. One enters through an imposing gateway more suited to some Asian prince's harem than a little esoteric sculpture garden set in the inner city.  A combination al fresco art gallery and terracotta junk yard……so perfectly Thai
It turned out to be the garden showroom of a local company called "Ban Phor Liang Meun" Terra-Cotta Arts with their offices located in a beautiful old teak house across the road.  It was founded in 1982 by Mr. Suttiphong Maiwan to represent the historical arts of South East Asia.  Using the hard clays of the area's surrounding Chiang Mai he has sought to reproduce the ancient arts of Burma, China, Khmer, India, Indonesia and Thai.  The copies are realistic enough make one think they have gone back in time to the palaces and gardens of Siam or Angkor.
The company has another location outside of Chiang Mai which I have not yet been to. Located in the 1,300 year old town of Lamphun and situated on 60 landscaped acres, they produce their pieces from the local clay and sell to designers and wealthy patrons all over the world. The descriptions of the gardens filled with exotic plants, flowering trees and shrubs, and intricately carved Cambodian temple fragments and doorways puts it near the top of my "Places to visit in Chiang Mai" list.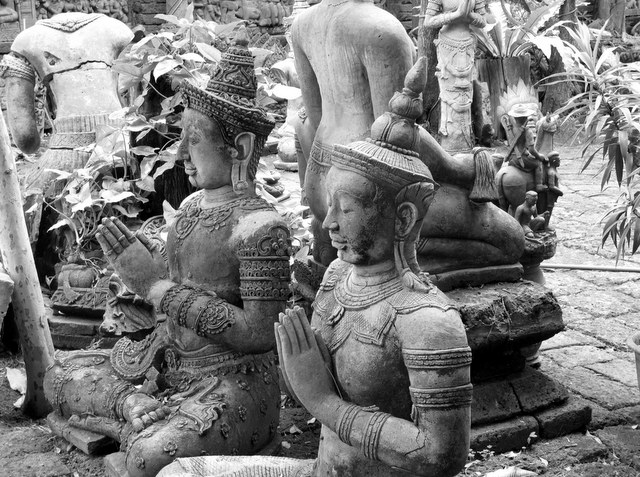 Because there was very little color variance in the garden….. Terracotta statues in a garden surrounded by red brick walls…..I thought it might be fun to show the pictures in black and white or sepia.  When I looked at them after processing it made me feel as if I had discovered a cache of old National Geographic magazine from the 30's.  Hope you enjoy this week's discovery.