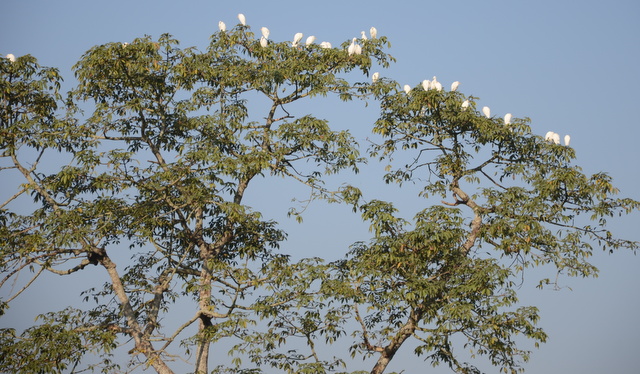 The Adventure Resort had a full schedule of things to do and places to go! I passed on giving an elephant a bath…once you've done it the magic is gone. But there was a bird walk and a jeep ride through the park with the resident nature guide who was really very good.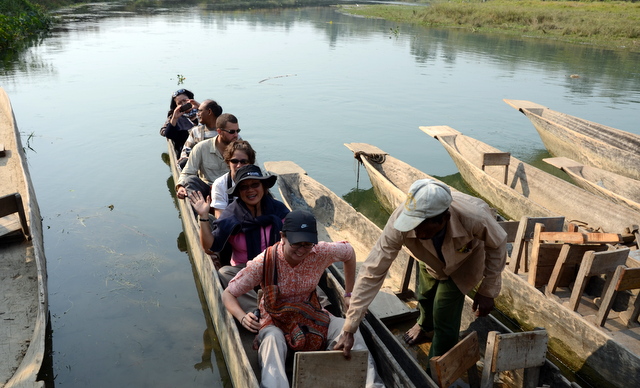 We also had scheduled a canoe ride down the river and a hike through the forest.  The long dugout canoe held about 8 and a ferryman stood on the back and poled us down a tributary of the Rapti River. Slow moving and low to the waterline it was a perfect way to see the birds and wildlife along the river. Egrets, loons and kingfishers hung out looking for an occasional fish for dinner while crocodiles sunned themselves along the banks.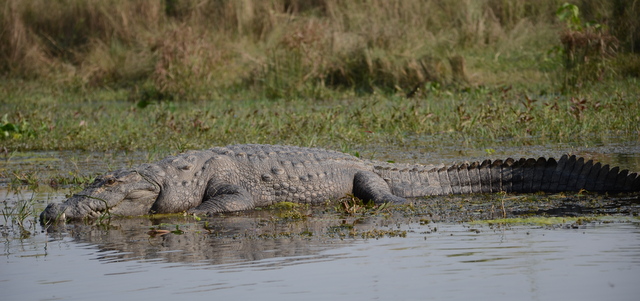 Our journey down river ended and we started our walk through the forest after our guide gave us a talk on Jungle Survival. If we meet up with a Rhino and he begins to charge we were to climb a tree…I looked at the trees around me and thought if it comes to that I'm a goner.  If one comes across a tiger…maintain eye contact and back away slowly…perhaps I can do this one.  If it is a wild elephant we come across and it becomes a threatening situation then it is best to run like hell. I probably would have no trouble taking this advice for sure.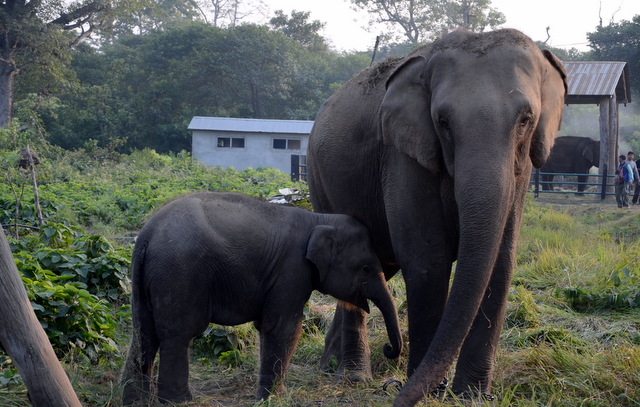 No animals surprised us along the way so it was just a pleasant walk through the woods with a stop at the end at a government run breeding center for elephants.  Scenes of mothers cuddling and stroking their young greeted us upon arrival as well as a smoky haze which enveloped the center from the piles of burning dung, which is apparently the only cost effective way to dispose of the mountains of waste.  Our guide gave us a through introduction to the sex lives of elephants. However we did not get a chance to see the actual deed being performed…shucks!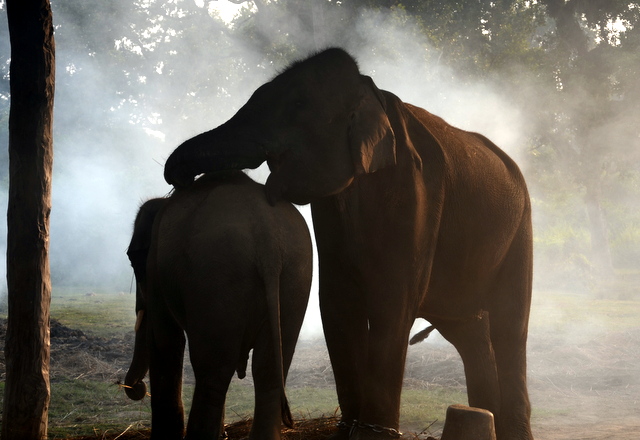 The stay was a great experience and it makes me want to do an African Safari sometime in the future.
Leaving Chitwan we traveled the same hellish road over to Pokara which is the epicenter for trekking the Himalayas. Everyone seems to land here for a day or two before and after the trekking experience.  Nestled in a valley with the mountains of the Annapurna range surrounding it and wrapped around Phewa Tal Lake the town is a quiet low key alternative to Kathmandu….and it is 10 degrees warmer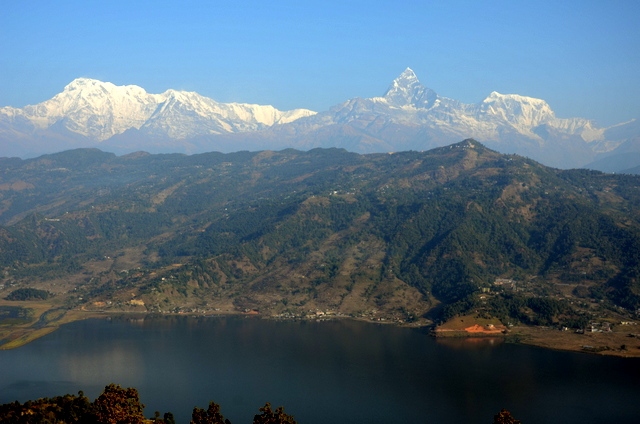 I woke up in the morning to views of the snow capped mountains which surrounded the town and every evening watched the sunset over Pkewa Tal.  Every way I looked nature was on display at its majestic best.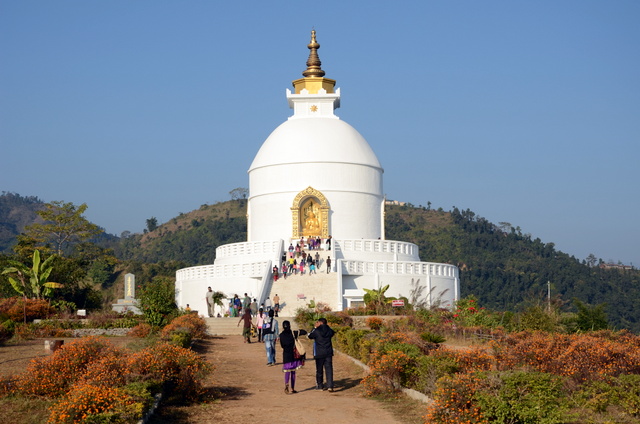 To get a view of the city from above I took a trip up to the World Peace Pagoda. Perched on a peak overlooking the lake and the city the brilliant white pagoda was constructed by Japanese Buddhist Monks to promote world peace and has an amazing view. This is another one of those places where there are thousands of steps to climb…but still it is worth the trip. If you don't feel like walking you can hire a taxi to take you 90% of the way and he will wait for you to go back. Much less pain but the view is the same.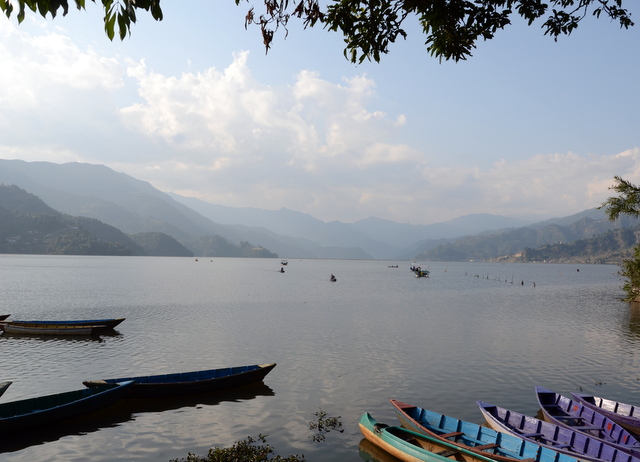 Pokara is a funny little town! Really it is two towns…Old Pokara and Lakeside which is where all the trekkers stay because it has the restaurants, bars, shops and ATM's. The streets in Lakeside are lined with shops selling knock off name brand outdoor wear and equipment plus hundreds of shops run by Kashmir refugees selling Pashmina and Cashmere scarves.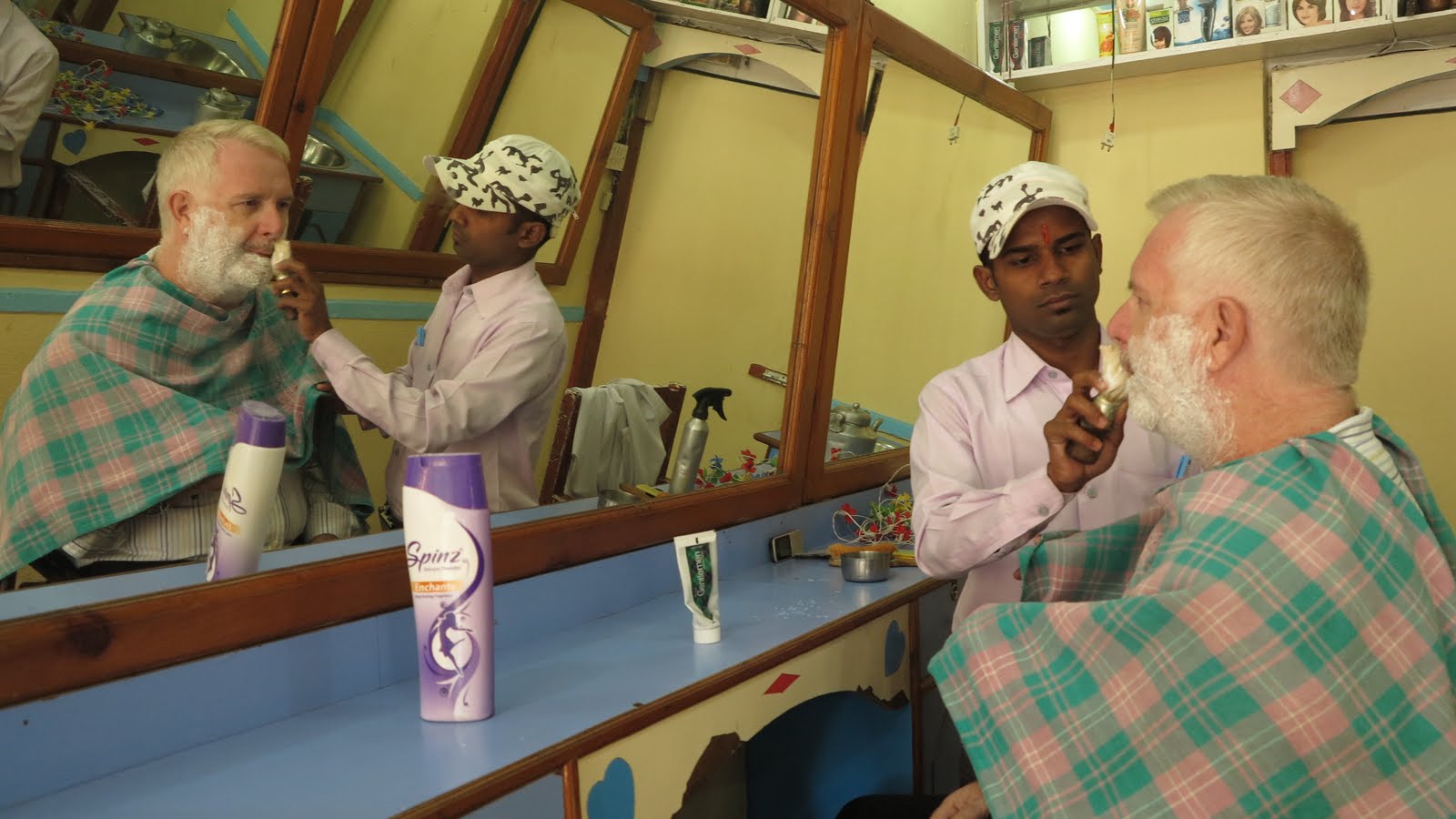 One of the supposedly must do's while in Pokara is to go to a barber for a haircut and a shave…I needed one so I gave it a try. The young barber only used scissors and the cut was pretty good plus he did not do a Sweeny Todd on me with his straight razor as I had imagined might happen.  Afterwards he gave me a head and shoulder massage to top off the experience.
Pokara was a great place to hang out before heading back to the hustle and bustle of Kathmandu.