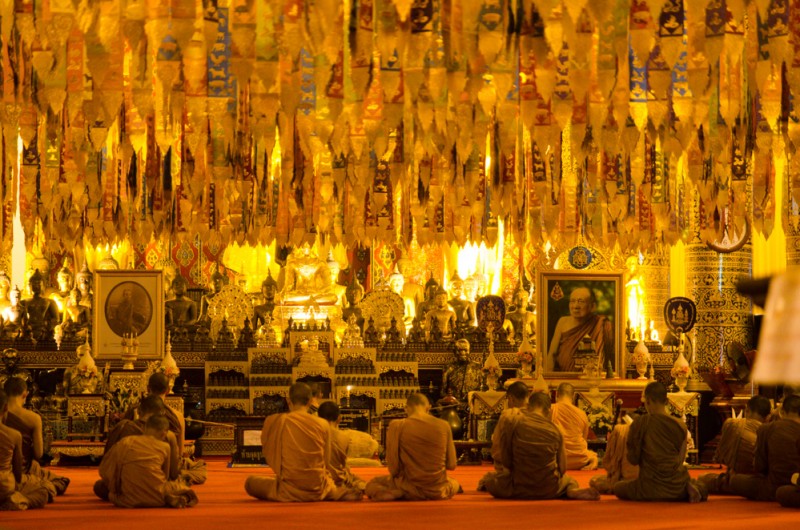 To misquote Mark Twain " Reports of my death have been greatly exaggerated". I am not dead just wintering in Chiang Mai, Thailand, and for not posting on my blog these past months …mea culpa, mea culpa.
I was in Chiang Mai last year and this year I am revisiting some old haunts, reuniting with friends and making some new ones along the way. The town seems to be the epicenter of the travel bloggers world at this time of the year…and why not it is warm but not too hot during the day and cool in the evenings. Last year I left in the middle of November when it was still pretty hot so this year I am enjoying "winter" in Thailand. For me the weather is a delight after months of 95+ weather but for the Thai's it appears that they are ill prepared for a little cool weather. When I get up in the early morning and go for a scooter ride to really enjoy the change in weather I see Thais in down jackets, scarves and gloves….I bet they would love Montana this time of year….NOT!
It is interesting how much a city can change in nine months or perhaps it is that my perceptions are a bit keener this year after having shaken off the shock of the new. We have 2 new malls that have opened since I've returned and a third is set to open in a few weeks. With the malls came two new cineplexes including an I-Max Theater…same films just a different location. The number of vehicles on the road seems to have increased dramatically and the new drivers, many of whom are Chinese, are more clueless than ever. New coffee shops and restaurants have opened everywhere one looks and the sidewalks are crowed with tourist.  A busy little city!
But there is much that has not changed…foot massages on the street, sunday night markets, festivals and rituals in the numerous Buddhist temples, open air dining at the Chiang Mai Gate and lounging at the open air bars and cafe's…very necessary after a hard day of being a tourist.
The last year of travel has highlighted the rising tide of Chinese tourist and nowhere is it more evident than here in Chiang Mai. It appears the middle-class in China is growing and they are anxious to see the world. In the past the Japanese have been the largest group of tourist here but they have been eclipsed by the Chinese who are coming in great busloads…driving down Kunming or Guangzhou or flying in from Beijing . But is is the same everywhere I have traveled lately…Turkey, and Spain both had large groups of Chinese tourist at all the major tourist attractions. They generate friction because they are unused to the customs of other cultures and the Chinese Board of Tourism has produced a pamphlet  on how to behave…don't spit on the floor, don't pick your nose at the table etc. which is given to the Chinese traveler when they leave the country. It is not working very well I fear here in Thailand.
Being surround by Buddhist Temples and flip flops is not as exotic as it was last year and I find myself walking by the Temples and Chedi's with a ho hum attitude and no desire to go in….rather like being in Europe after a dozen visits and thinking…O Lord, not another Gothic Cathedral. How quickly we become jaded!
What is new this year is me having a motor scooter…great fun. I have been able to ride out into the mountains around town …which is always 10 degrees cooler and very green. It also get me out of the pollution that hangs in the valley that Chiang Mai sits in. Last year I walked most places and by the time I arrived I was overheated and dripping with perspiration now I arrive on my scooter and I'm cool and collected. Plus I love being out on the road feeling the wind and being so open to the countryside…make me feel young. Next step up is a motorcycle….be still my beating heart.
I will be here till the end of February with a trip or two in between so there will be more post from this part of the world till spring.
HAPPY HOLIDAYS TO ONE AND ALL!