I keep taking these slow boats up and down rivers in South East Asia. It is a love hate relationship I have but the alternative is the fast boat (heaua wai) which is one step from a pre-paid suicide pact. When you get on the fast boat you are given a crash helmet and life vests….prayer beads are extra plus you are responsible for your own ear plugs. I have been told that the noise is deafening and the ride bone jarring…as you can imagine I go for the slow boat.
I had read that the scenery on the Nam Ou River was spectacular and so it seemed like a good idea while here in Laos to get away from the cities to see the northern hill region of the country.  I talked Laura and Derrylyn, my traveling companions, into making this detour. I think they were a bit apprehensive…unsure that the scenery would be recompense enough for eight hours in a slow boat. However, in the end I think they really enjoyed the experience.
The rivers are scarcely populated and there is no commercial development so you get miles and miles of open water surrounded by sky, limestone cliffs and forest.
The guide book did not lie…the scenery along this shallow meandering river was stunning. It was a small boat with six car seats lining the sides and a sliding roof which gave us an unobstructed view.
Our river boat captain was a real pro…he knew all the sand bars, floating islands and rock outcroppings  from Luang Prabang where we started  till we arrived at the riverside town of Nong Khiaw eight hours later. I really didn't care much about the town as it was just a way station on the river trip and truth be told there really was not much there to see or do. Many people stop here in Nong Khiaw for a night before they head further up river to Muang Ngoi, a village that can only be reached by water, but I was heading back to Luang Prabang the next day.
The region is noted for rafting, hiking, caving, canoeing, fishing and bike riding and once the sun goes down most everyone to too tired after an adventure filled day for much more than a quick dinner and an early bed.
On the ride up we shared the boat with a charming French family who also were staying at our accommodations…Nong Kiiau Riverside.  The inn consisted of a central reception/dining hall and a collection of bungalows perched out over the river. Great views and a very comfortable four poster bed draped in mosquito netting and I was in heaven. There were a few short comings…plumbing issues, one bed instead of two etc. etc. but they tried and in this backwater they were the best this small town had to offer. After eight hours on the boat we were too tired to wander around in the dark to find a place to eat so we ate at the hotel and our Lao dinner was very good and reasonable.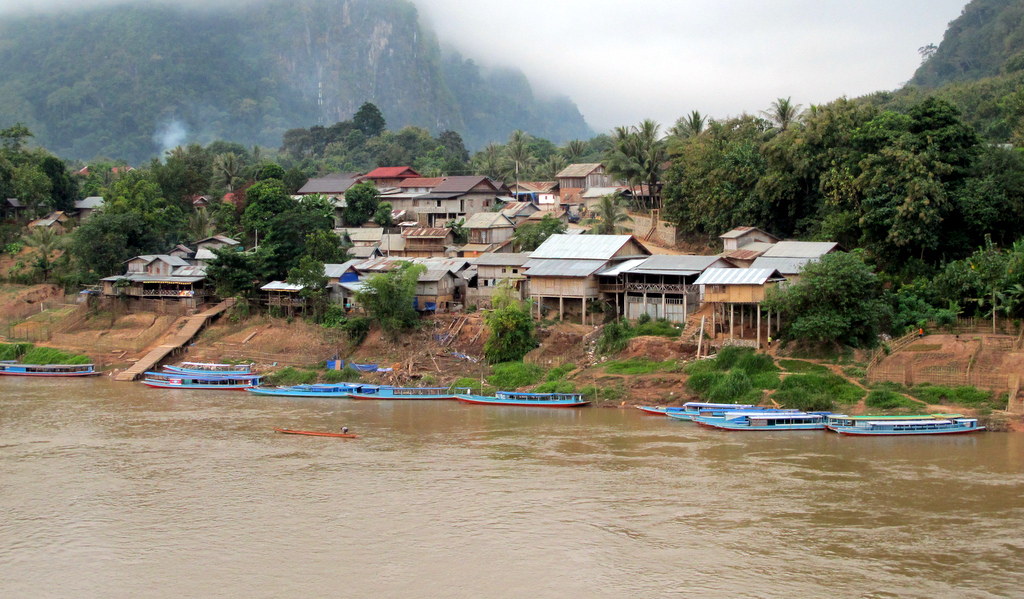 I got up first thing in the morning to take a few photos of the town because it had been too late when we arrived and we planned to head back to Luang Prabang before noon so we could catch a plane to Vientiane. The sun was not out, but my shots of the homes built on stilts along the river with mist shrouded mountains in the background captured the essence of this off the beaten track village in Northern Laos pretty well I think.
We were driven on our three hour trip back to Luang Prabang by the young Danish owner of the hotel that morning. It was quick and easy but offered another view of rural Laos to help round out our appreciation of this beautiful country.