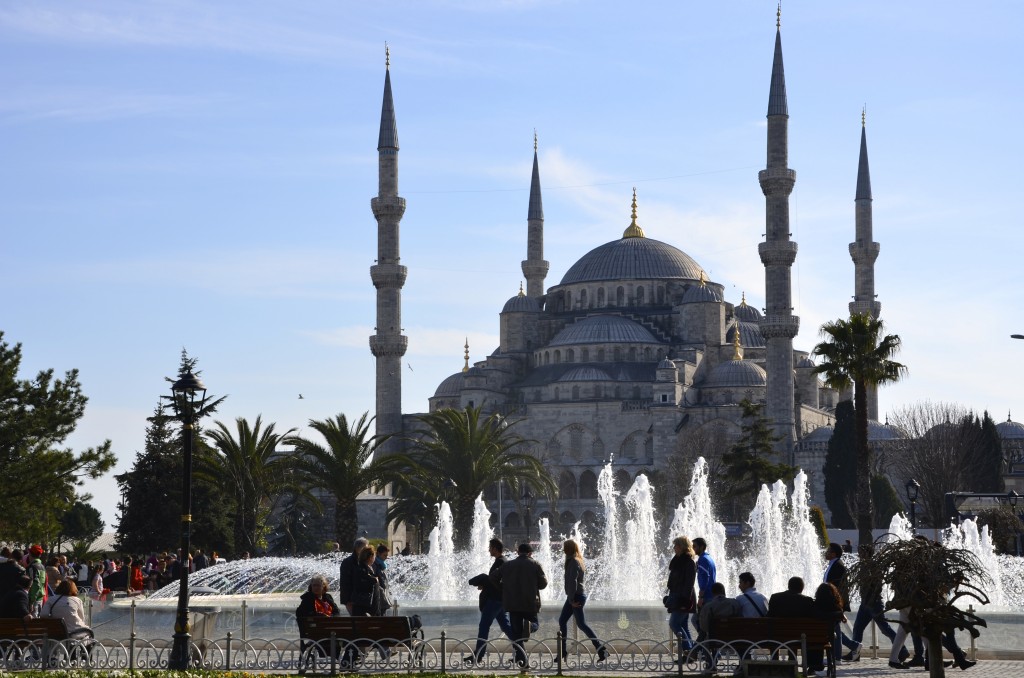 On the bus again, this time from Sofia to Istanbul. ISTANBUL…the very name conjures up images of film noir mysteries and international intrigue. From Orson Wells to James Bond the city has served as a perfect backdrop  whenever a dash of the mysterious or exotic is needed. This completely mesmerizing city is a heady mix of Asian and European, Arab and Christian…straddling two continents like the Colossus of Rhodes. Since the Greeks sailed up the Bosphorus in 657 BC this city has been sought after and fought over by Romans, Byzantines, Ottomans and the British…all hoping to maintain a foothold on this most strategic spot of land.
It has been two years since I last visited the city and I was unprepared for the immense amount of improvements that have been made in the public areas surrounding the major tourist attractions like Aya Sofia and the Blue Mosque. It appears that in anticipation of a successful bid for a Summer Olympics the government had poured time and resources into making the main tourist areas more accessible and desirable. On both counts they have done a wonderful job! However, I fear that the recent unrest in Istanbul may have killed their chances for the games to be held there.
Newly constructed plaza's filled with fountains, renovated buildings, updated ticket kiosk's, newly installed lighting and an amphitheater combined to make the area really pop. Sultanahmet is now a major gathering spot for Turks and Tourist alike.  During this visit I marveled at the number of visitors pouring into the city. I thought April would still be a slow period, considering it was still rather cold, but the tour buses poured in. Most of them were from South East Asia but there were many Europeans as well. English speaking tourist were the minority.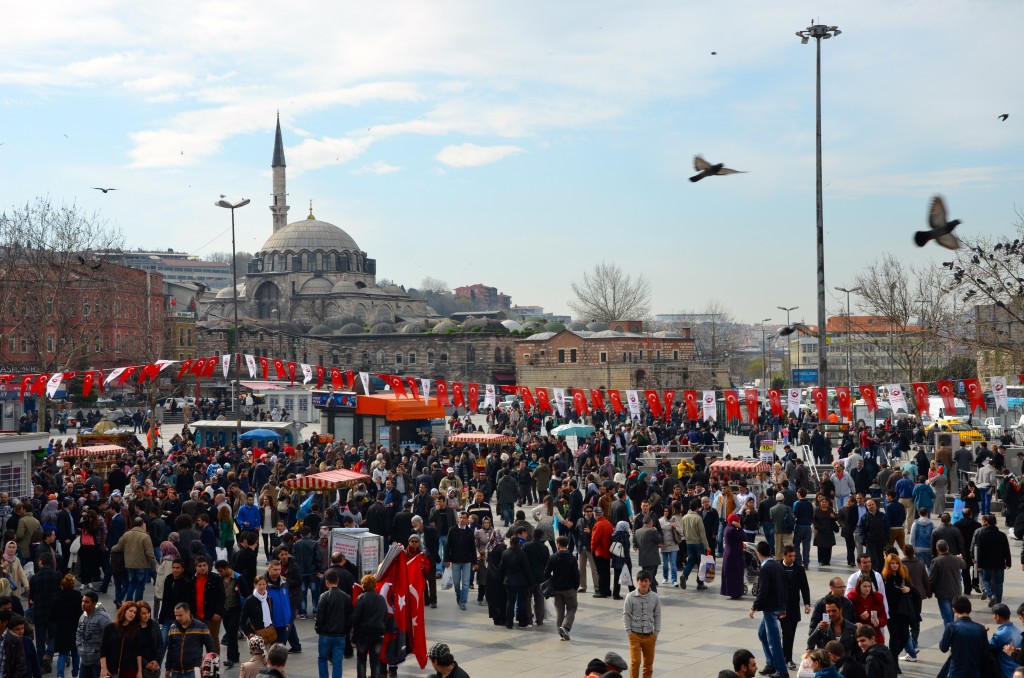 There were a few disappointments …the Museum of Turkish and Islamic Arts was closed for renovation. This is one of my favorite museums in the city because the collections is first rate (especially the carpets) and it is hardly ever crowded. It looked to be a major renovation so I expect it may take several years to complete. It was the same for the Istanbul Archeological Museum with the main sculpture galleries closed for renovation and to make them earthquake proof…good luck with that.
One of my stops while touring the city was the Pera Museum which is located in the Beyoglu area of the city and not to far from Taksim Square. It is a little jewel of a museum that offers touring exhibitions as well as a permanent collection. When I visited two years ago there was a wonderful show of Diego Rivera and Frida Kahlo…their life and work. In the show were many photos of Frida by a photographer named Nickolas Muray. On this visit there was a retrospect show of the same said photographer Nickolas Muray who it seems was Frida's lover for 10 years. He was dashing in appearance and accomplished. He invented the Carbro process which made for realistic color fidelity and was the first person to publish a natural color photograph in an American magazine. He was twice on the US Olympic Fencing team and was one of the most sought after commercial photographers of his day. While Frida never left Diego she wrote to Nickolas …I will never forget you, never, never. You are my whole life. From the exhibit it appears that he never forgot her either. A delightful show.
The opportunities to be totally immersed in sightseeing are endless…Museums, Art Galleries, Palaces, Gardens, Architecture, Bazaars, Underground Roman Cisterns…you name it and Istanbul has something to offer. Of course the big draws are Hagia Sofia, Topkapi Palace and the  Mosque of Sultan Suleyman designed by Mimar Sinan both of whom represent the Golden Age of the Ottoman Empire. I found it impossible to skip some of the major tourist attractions even though I had  seen them 2 year ago….they are too splendid to pass up even for a jaded traveler like myself.
Be prepared for long lines and extended waits for Hagia Sofia and Topkapi Palace. But not to worry it will give you  chance to turn to your neighbor in line and work on your Chinese.