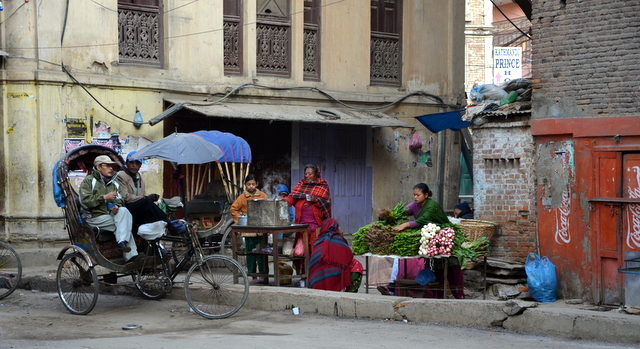 Kathmandu is one of the places where the name automatically conjures up images of the exotic!  Like a scene from James Hiltons "Lost Horizon" one expects to find Nepal to be Shangri La nestled in the Himalayas, with multitier temples set against a backdrop of the snow capped mountains. Nothing could be further from the truth.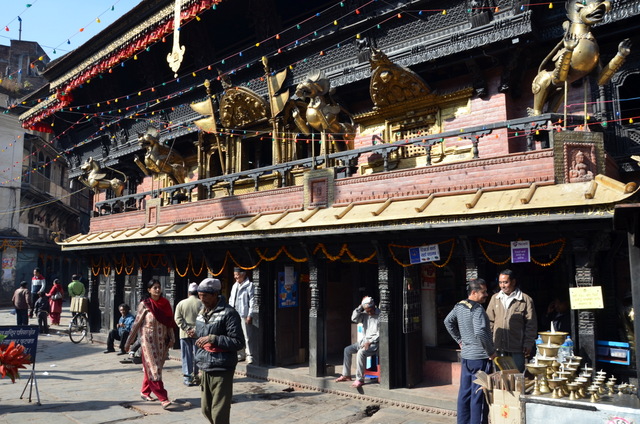 This is a country in the midst of a meltdown! I wish that this was a new development but from what people here tell me it has been going on for a long time and the quarrelsome, ineffectual government seems incapable of making decisions that will solve the problems that affect the most basic needs for its people. Since I have arrived electricity has been in short supply…it ceases to exist for many hours each day. Sometimes the power is off for a few hours and at other times it is off for eight hours in a row. There is no safe water and most home have no source for water other than public wells or the plastic storage tanks they have filled by commercial water trucks.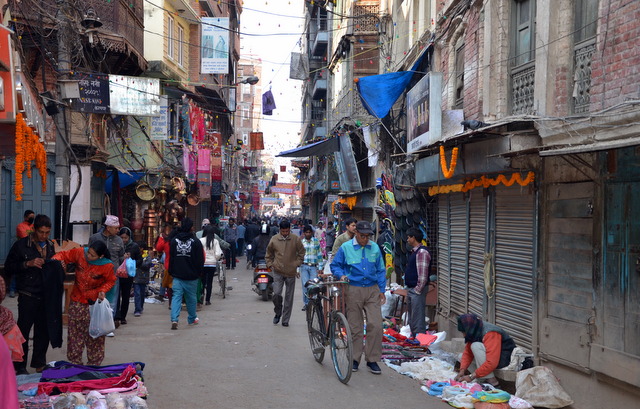 Garbage collection is hit or miss with the streets piled with plastic bags of garbage which attract groups of wild dogs or a cow or two. Once collected, the system of garbage disposal is an ecological disaster. The maintenance and construction of roads has all but ceased due to lack of money or the political will to get projects started. The local streets have broken-down into  a never-ending stream of bone jarring potholes and the main highway in the country which runs from Kathmandu to India is in such poor condition that the 90 mile trip takes over 5 hours to complete.
Now having said all that… Kathmandu is a fascinating place to visit…wonderfully exotic, amazingly colorful and the quintessential backpacker destination for young and old alike (I'm one of the old backpackers). However, it is not a place for non-adventuresome travelers. Visitors come here in small part for the culture but mostly they come for the outdoor adventure of trekking or climbing the Himalayas.  My reasoning was in reverse of most other travelers as I am not a great outdoor person.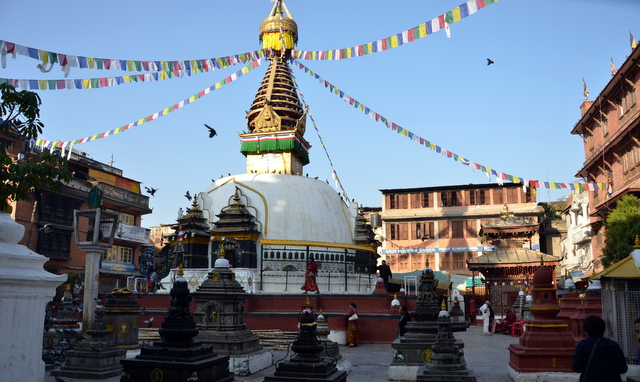 My first days in town were spent taking self guided walking tours of the old center of Kathmandu…down narrow streets and alleyways, in and out of ancient squares filled with temples and pigeons, wandering the produce markets that line the streets and squares, browsing the tiny shops filled with an amazing array of stuff and even watching women wash their cloths in a below ground communal water tank called a hiti.
Prayer flags, stretched from tops of stupa's to the surrounding buildings, fluttered in the breeze and flocks of pigeons rose up in a swirl as I walked through the squares surrounding the domed stupa's topped with the eyes of Buddha.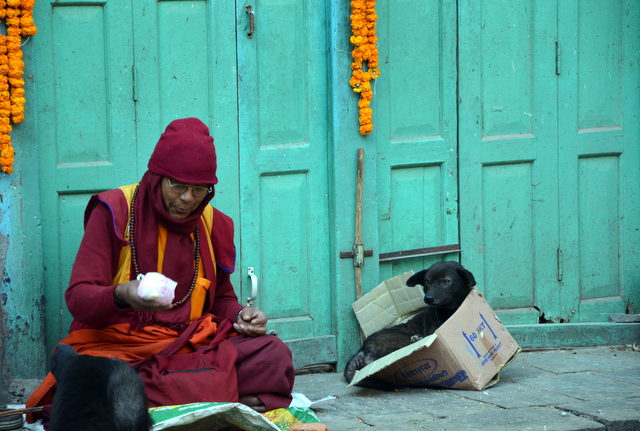 By the time I made it down to Hanuman-dhoka Durbar Square where the old palaces and temples of kings are located (a Unesco World Heritage Site) I was already in sensory overload. The sights, colors and smells would have been enough on their own but throw the traffic into the mix and it was too heady a mix for a mere mortal. The narrow streets are filled with a mixture of motorcycles, scooters, cars, trucks and bicycle powered rickshaws all honking their horns at the same time. As the dust, thrown up by the passing vehicles from the unpaved streets, swirls around and the cacophony of horns continues unabated one is forced to ask themselves which section of Dante's Inferno I have landed in.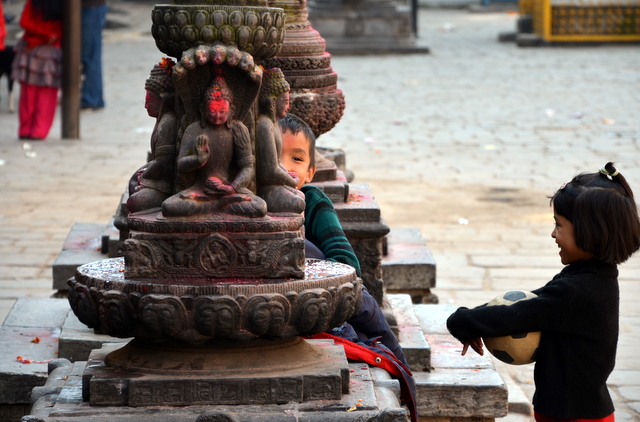 The city, founded in the 12th century, sits on the old trade route between Tibet and India and shows the heavy influences of both cultures. Both Hindu and Buddhist shrines populate the city and the smell of incense is ever-present.  It is impossible to go anywhere without seeing garlands of marigolds draping doorways, offerings of food on banana leaf plates lying before street shrines or the sound of temple bells in the distance.  People even walk around with piles of marigold petals on their heads…go figure!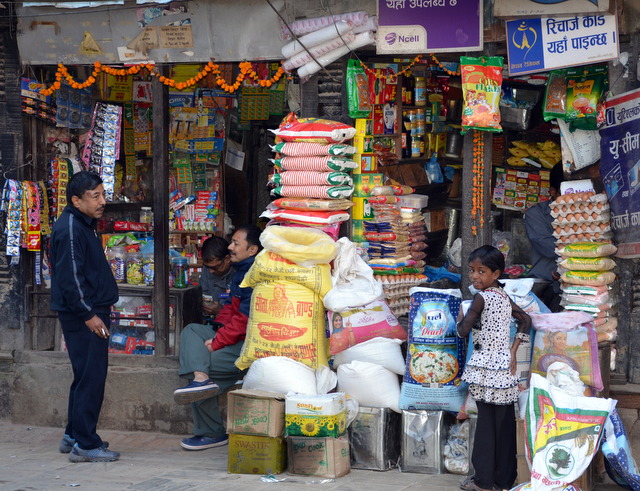 I think for the serious traveler this is a place to add to your bucket list and maybe go to Bhutan as well for a total Himalaya experience. It won't be easy but it will be a mind blowing experience.