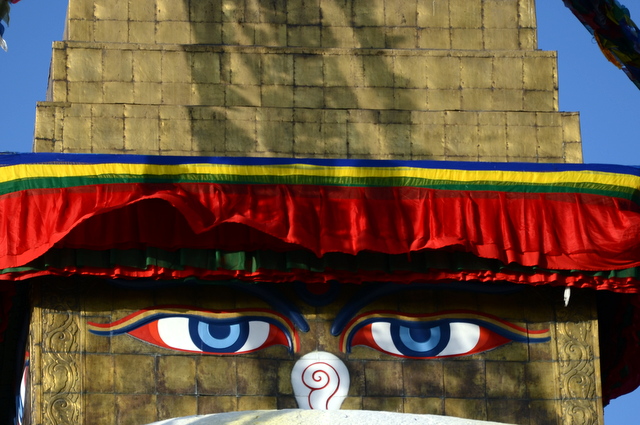 If you're as ill informed as I apparently am, you might think that Nepal is a country filled with Buddhist temples and monasteries while nothing could be further from the truth.  I had assumed that Tibet and Nepal were cut from the same Himalayan cloth but Nepal is a Hindu country and quite different. Only 11 percent of Nepal is Buddhist with 81 percent of the population being Hindu.  The Nepali people are extremely religious and with 2,700 shrines in the Kathmandu valley it is impossible to walk down any street in the capitol and not find offerings of flowers and food. All the while the scent of sandalwood incense fills the air.
I set out one day to see the two of the most sacred places in Nepal….Boudhanath for the Buddhist and Pashupatinath the Hindu's.
Boudhanath…there is no place quite like it! This enormous stupa pulses with life as thousands of pilgrims gather there every evening to make their daily circumnavigation of the dome, beneath the watchful eyes of Buddha, which gaze out from a gilded tower.
This UNESCO World Heritage Site is the iconic image of Nepal. It is of this stupa that the quintessential photographs, that grace every book or magazine article on Nepal, are taken.  However, it is a much more important than a mere photo op….it is one of the largest and most significant Buddhist monuments in the world. Pilgrims arrive here from all over the Himalayan region and South East Asia to pray and make the walk around the stupa.
Boudhanath is also the center of a thriving Tibetan community filled with monasteries, craftsman and shops. Some of the most wonderful shops filled with jewel toned silk brocades, prayer beads, and traditional dress of Tibet line the narrow twisting streets that spin out from the stupa.  The monasteries which house hundreds of monks and novices add to the mix by allowing the monks to enter into the maelstrom of pilgrims and tourist. Every once in awhile a young novice runs by, his face lit with joy and with his maroon shawl flying in the breeze like a Buddhist kite getting ready to sail off. When I see this I too am filled with joy and perhaps a little envy.
The circle around the stupa is lined with buildings selling the usual…trekking supplies, religious paraphernalia, bronze Buddha's and of course restaurants. Many of the places offer a roof top garden from which to have a drink and watch the parade of pilgrims down below. If one comes to Kathmandu it is a place to visit for sure.
Pashupatinath was a different story. This temple constructed in 1696 (although the site was used for much longer) sits on the sacred Bagmati River and is dedicated to Shiva. It is surrounded by a bustling market of religious stalls filled with marigolds, Prasad incense, Rudraksha beads, conch shells and pictures of Hindu deities. The devotees and sadhus who swarm around the temple come from all over the Indian subcontinent (I just love getting to talk about the subcontinent- it makes me feel all National Geographic) many of whom even choose to be cremated along the banks of the river.
On the day I arrived there was much activity around the temple…offerings being made, fires going, cows wandering around and music. But it was all on the outside…I could not get inside the temple enclosure or the temple proper. There was a big sign…HINDU'S ONLY! I kept moving closer to the gate thinking I could slide in unnoticed but a rather surly looking fellow kept giving me the evil eye and I didn't chance it. But perhaps if I had put the smudge of colored paint on my forehead and a few marigold petals on my head I could have blended in….well maybe not!
So all the way across town and walking up hundreds of steps (all these places seem to have thousands of steps) I could not get inside. There were things to see around the temple area though. The cremation ghats line the river so if your timing is right you may see a funeral, otherwise just wander around and watch the absolutely amazing scene unfold around you.
It is a 400-500 rupee cab ride to each place and I booked a deal with my taxi driver for him to drive and wait. But if I had to choose between the two I would go for Boudhanath as there is more to experience. Perhaps I'm just being prejudicial but I hate when someone won't let me in the front door…it has a tendency to put me off.