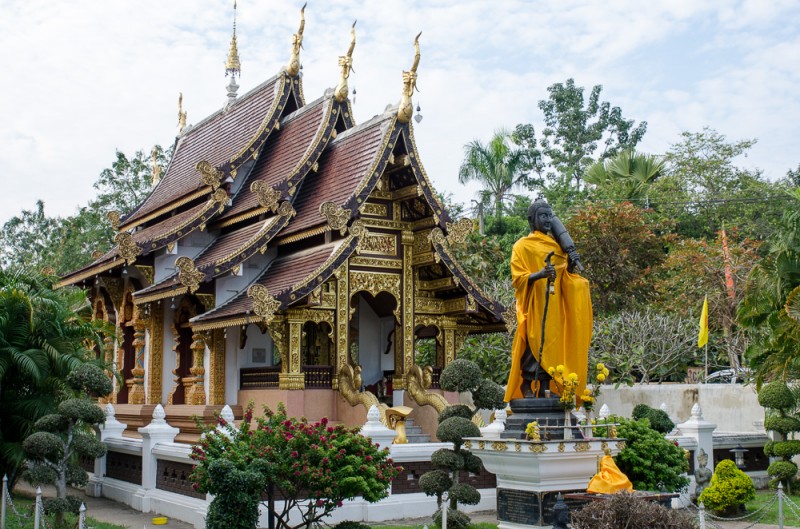 I was thinking the other day what a lazy fellow I am…lucky but lazy. I have not been writing in my blog nor did I send friends a year end letter…no excuses really, I just don't seem to feel the need to put pen to paper…not literally pen to paper as that would be positively Medieval…but as I realized this is my fifth year of travel I thought I should make a comment or two.
I am back in Chiang Mai, Thailand for the winter which means that I have circumnavigated the globe once more in 2014.  This is my third trip round and I feel that I'm getting the hang of it.  As always, it was a great past year…I met a lot of new people and visited some countries that I had hitherto-fore not visited. In 2014 I even had the good fortune to scratch a couple of destinations off of my "Bucket List".
When I left Chiang Mai last February I headed to the USA to do a driving trip with my friend Joyce. It was her suggestion to drive across the country following the Lewis & Clark Trail. I had not thought of it but once it was proposed I jumped at the idea. It meant going through some states that I have never been to, but wanted to visit…North Dakota, South Dakota, Montana and Idaho. It also meant visiting some cities and National Parks that were new to me…Portland, Oregon,  Victoria, British Columbia, Olympia National Park etc. etc. We took 5 weeks driving out from Louisville and back which was about a 5,000 mile (8,000 km) drive. I love road trips and it had been years since I was on a big one so I was delighted with the whole expedition across the country
There was a long visit to Louisville, Kentucky where I caught up with my friends and rediscovered Louisville. I was in Louisville…my hometown..and I began to give serious consideration to settling down someplace.  I know you have heard this story before and believe me I mean it when I say it but I'm afraid the notion doesn't stick with me for very long.  So hard to rein in the wanderlust that is part of the warp and weft of my personality.
I went to Mexico from Louisville…to the town of San Miguel de Allende…and hoped for the best. Could this be the place to hang out for a period of time…dig in and set up a new life. I rented a sweet one bedroom apartment with a lovely garden terrace that my friend Lind Rose found for me a short walk outside of El Centro. Again my luck paid off…Linda Rose found me the apartment and sent pictures, I gave her the OK and asked her to give Oliver, the rental agent, a months rent and I flew in a few days later…she gave me lunch, a glass of wine and the keys to my new apartment.  And there you have it…Bob's your uncle as they say. I was now settled into my furnished apartment…everything from towels to toilet paper. After a trip to the grocery I was ready to explore my new town.
San Miguel is a UNESCO World Heritage site so there is plenty to explore….cobblestoned streets, 16th century churches, beautiful public squares and elegant courtyards with dripping fountains and flowers galore. San Miguel is totally geared to keeping the expats from getting bored…libraries filled with books in english, lectures, concerts, art galleries, art schools, language schools, coffee shops and two for one cocktail hours. Who could ask for more?
I enjoyed the town and made new friends quickly thanks to introductions from my friends Linda Rose, Tom and George. I had met all three early in my travels in Cuenca, Ecuador and we have stayed in touch over the subsequent years. I thought ,well OK I'm here for a while…I can do this, I can settle in.  Just about that time my friend Barbara Weibel called and invited me to join her as a guest of Viking River Cruise's for a trip across Russia.  As I have said before…invitations to travel are like dancing lessons from God…I can never seem to say no to travel invitations.  My mind started to spin with the possibilities….a stop in Berlin first where all my travel blogger friends seem to hang out these days, seeing the Hermitage Museum in St Petersburg, visiting the Baltic countries….Oh my, Oh my.
See how it is, my TWADD (traveler with attention deficit disorder) kicks in and off I go. I told you in my year end letter last year that I was going to cut back on travel…perhaps only five countries. What can I say TWADD kicked in and I visited many more…Thailand, USA, Canada, Mexico, Germany, Russia, Estonia, Latvia, Turkey, Malaysia and a return to Thailand…ten countries half of which I had no notion of going to at the beginning of 2014.
I am making no predictions for 2015 it seems useless to even give it a try.  Other travelers and bloggers I know seem to have it all mapped out and post a month by month schedule of where they are going and what they will see.  I don't think there is a snowballs chance in hell that I could do it and keep to the schedule. Already I am headed to unexpected destinations…Spain and Portugal in March and April. Then back to the US for another driving trip through the Deep South and the Natchez Trace. Will spend some months in the States working on a couple of projects before trying to figure out where to head next.
As soon as I figure it out you will be the first to know. There is a good chance it will be back to Europe because it is 30% cheaper this year than last due to a strong Dollar. Along the way I am going to make every effort to get back on my schedule writing every week on the blog. Hold me to it…if I start becoming lax drop me a note and berate me for being so lazy.
Happy and safe travels to all my friends in 2015.