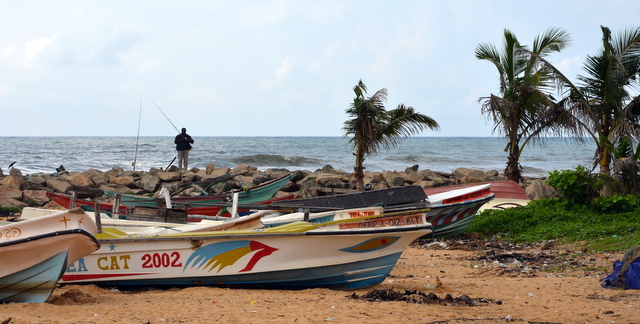 I left Nepal and landed in Sri Lanka…for those of you still using your 1954 World Atlas its Ceylon…and what a trip it was. When I arrived at the Kathmandu Airport (which in itself is a trip) and presented my ticket and passport I was asked where my transit visa was? I have never heard of such a thing…I booked a ticket from point A being Kathmandu to point B which is Colombo, Sri Lanka why the hell do I need a transit visa to be an international passenger??? Well it turns out the online service I used to book my tickets had me go with two stops in India which threw me into a domestic flight without telling me I needed an Indian  transit visa. With no other recourse I was forced to spend $300 on another ticket and needless to say my charge card will have this charge for the tickets on hold till hell freezes over. So after a 10 hour layover in Bombay (again the old names) I arrived in Colombo for dawn.
The Colombo airport was great! Instead of Channel, Armani and Gucci shops they had appliance stores from which people were eagerly hauling out flat screen TV's and refrigerators to the car park. It was a modern airport and everything worked smoothly even though we arrived at 5:30 AM
After my time in Nepal this was heaven…the streets were paved and there was electricity. I had the feeling that I had left the middle ages and moved into the modern era. There were almost no scooters compared to the rest of Asia and the cars were newer small sizes mixed with luxury cars like Mercedes and BMW….I even saw a Porsche dealer on the way to the hotel.
Colombo immediately seemed so different from the other countries that I had been to in Asia…first I saw no street food…second there was not the plethora of small mom and pop restaurants that I had become accustomed to. In Thailand I had some great little eateries within a block of my apartment that I could pop down to for a $2.50 meal and which I still miss a great deal. If truth be told, I could tell that I was destined to be disappointed in the food of Sri Lanka.
I suppose I should warn you if you are planning to visit, that Colombo is HOT & HUMID!  Even if it is on the ocean and has a good breeze it does little to mitigate the heat. All you who know me or those that have followed my writing know that I really don't like heat and humidity…but here I am once again in the thick of it. Slow boats up languid rivers and an abundance of heat and humidity.., was there a man ever so tested?
The history of the island is rich and varied. Sri Lanka was always a trading hub even before Arab traders started to arrive in the 7 AD. Traders sought gems, spices, ivory and elephants and the Portuguese when they arrived in 1505 were eager to monopolize the valuable spice trade. In 1602 the Dutch arrived and attempted to subjugate the island for the 140 years they ruled but to no avail. The British arrived in 1802 having been given the island in return for protection from the French for the Dutch. By 1815 the British controlled the whole island. They converted from coffee and rubber production to tea and at the same time imported Tamil laborers from India setting in motions conflicts that continue to this day.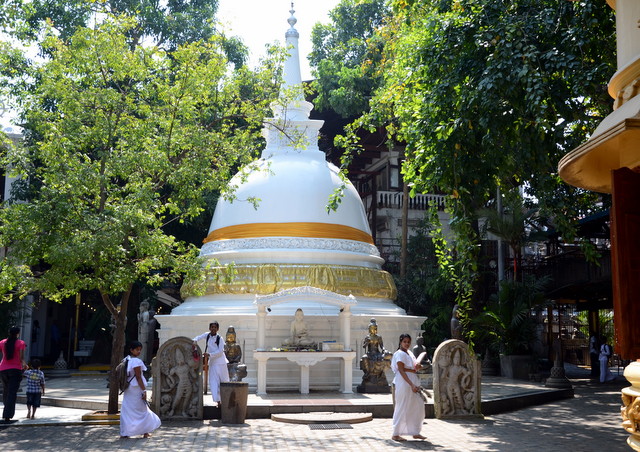 I booked into a hotel at the edge of Cinnamon Gardens which is supposed to be the Beverly Hills of Colombo…well what can I say to that except….NOT! But one has to put it all in perspective…this is a city with a population of 2.4 million and not one  shopping mall. Everything is very 1950's in the way it works and I don't know if that is because of its colonial background or its island mentality. The heat makes everything move slow…from traffic to service.
This is a Buddhist country with some Hindu thrown in but there is lots of Christmas stuff going on here. Shops are decorated with western signs of the holiday…Santa Claus, Christmas trees, colored lights, Christmas Music …I was really quite surprised.
There was the ocean to visit, neighborhoods to walk and a whole city to explore but I could tell that I would be ready to move on shortly up into the hill country with its cooler weather and great tea plantations spread across the lush green mountains.
But for this week I will be content to explore Colombo and get a feel for island life.