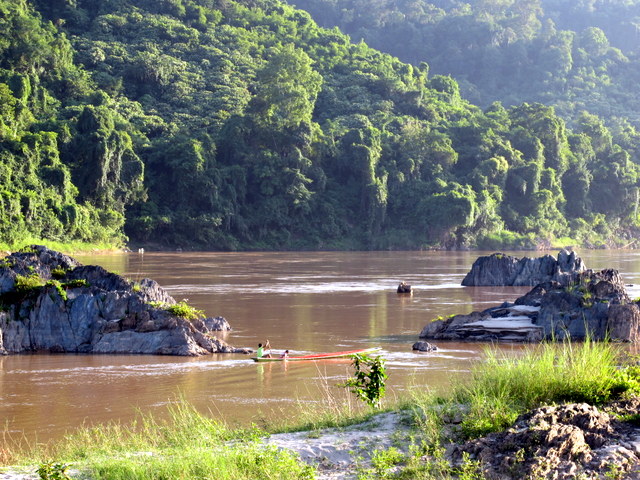 My travel companions in Laos Derrylyn & Laura had made reservations for us at an Eco-Lodge three hours up river from Luang Prabang on the Mekong.  As they described Kamu Lodge I began to get a bad feeling. When Derrylyn described the place as "cool"…a term I reserve for music and never use for jungle accommodations…I knew I was getting ready to move into the third ring of Hell.
The term Eco-Lodge always seems to equate to high cost with minimal amenities and this proved no exception. After riding on a long tail boat for three hours we pull into the dock and hiked up the dusty trail to our new home set in the middle of a rice paddy.  Our rooms were safari tents set on platforms with grass roof's built over them…need I bother to mention that there was no AC.
Each tent/cabin was nestled into the jungle far enough apart so that it didn't seem like we were at Camp Piamingo but close enough so we could hear our neighbors snore. We were in the jungle, off the grid and electricity was at a premium. Solar panels and storage batteries made up the system that powered the 2W fluorescent bulbs and the fans mounted on the wall a foot over our heads.
Forget reading… a Zippo lighter would have given me more light than the battery operated fluorescent bulb hanging from the middle of my tent.  It felt like 100 degrees in our little jungle paradise and I took one look at the cooling system (Ha, Ha) and I knew that there would be little or no sleep for me.  The fan that hung over my bed was about 5 inches across and when it was turned on made me think that a model airplane was getting ready to land on my forehead as I lie there.
Eco-Lodges also have "neat" group activities. After our arrival when the sun was at its hottest we were to go out and harvest rice in the paddy. Armed with a sickle and a straw hat we were instructed in the fine art of crop harvesting.  I stood under a shade tree, having passed on weed whacking 101, daydreaming of a long tall G & T but it was not to be…no ice was to be had in our eco paradise.
OK, you get the picture….I'm a weenie! I don't look for adventure or back to nature experiences! I am more up for strolls through a 17th century garden followed by a nice lunch at a sidewalk café and a bottle of chilled white wine. As I said…the third ring of Hell.
It was not all misery and boredom even though I may have given your that impression…oh really!
Adjacent to the lodge was Ban Nyoy Har a basic village for 63 families of the Lao Khmu tribe which I enjoyed visiting. The people live a simple life off the grid based on subsistence farming plus some fishing and it was interesting to observe the family structure and lifestyle of these people.  Like most hill tribe villages in Lao there are a great many children….3 to 6 per family.  The women start producing children very young and as I looked at what I assumed to be old women with young babies in the group I was not really sure of their age. Perhaps the combination of hard work in the fields and childbirth had aged them far beyond their actual years. I lacked the language skills and nerve to ask about it.
I have very mixed feelings about going to villages and taking photos of the people.  I mostly feel guilty because we travelers reduce the villagers to side show freaks. This is an old dilemma and while I wrestle with it I don't expect to solve it.
The trip up and down the Mekong was interesting as well. For such a huge watershed there is very little commercial traffic on the river.  Because of the shifting channels, waterfalls and rock outcroppings they cannot put barges on these rivers as we do in the US.  So it was a slow gentle trip up and down the river on a flat bottomed long tail boat with a stop at the Pak Ou Buddha Caves…two caves on the bank of the Mekong filled with hundreds upon hundreds of Buddha images.
I would advise anyone who comes to Luang Prabang to take a trip up the river but do skip the Eco-friendly lodges…one only gets overheated