The area of Thrace in northwest Turkey is not a common stop on the tourist circuit. While there I may have been one of five tourists in the town of Edirne.  It is a shame that more people don't explore the area which has the advantage of being close to Istanbul, Bulgaria and Greece.  This is the foothold in Europe for Turkey….originally called Trakya when it was part of the Roman Empire…and has much to offer including Turkey's finest Raki (aniseed brandy), the Kirkpinar which is the second oldest sporting event in the world and stunning Ottoman Architecture.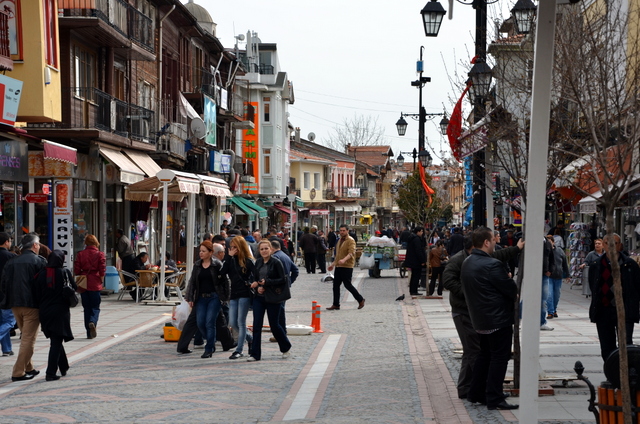 I hoped a bus in Selcuk for the city of Edirne which was once the Capital of the Ottoman Empire before Constantinople was taken from the Byzantines. My reason for the visit to Edirne was the architecture.  The town has a collection of masterpieces as well as a large stock of old Ottoman homes.
I was delighted with the city…small (only 139,000), well laid out, picturesque and most everything within walking distance. It had a lovely commercial area with pedestrian malls and narrow old lanes with plenty of restaurants, flower shops, cafes and markets. The city also had an abundance of green spaces filled with fountains, sculpture, flowers and benches for a pleasant rest as the hustle bustle of the town swirled around.
The famous Ottoman Architect Mimar Sinan designed and built a masterpiece here…Selimiye Camil (1569 – 75) with a floating dome of graceful proportions. This exceptional Mosque dominates the skyline of this low-rise city.  It is said that Sinan considered this to be his finest work and It was easy to understand why as I stood looking at the four elegant minarets (233 ft tall) surrounding the gold tipped dome. On the grounds of the temple a medrese (seminary) has been transformed into a Turkish and Islamic Arts Museum which has a interesting collection beautifully displayed. Well worth a visit!
One of the most interesting mosque complexes I visited was built for Sultan Bayezid II in 1484 and houses an award winning museum …Museum of Health. The complex houses a 15th century medical school, asylum (timarhane) and a hospital (darussifa) presenting the history of medicine in the Ottoman world …which was light years ahead of 15th century Europe in its treatment  of the mentally ill.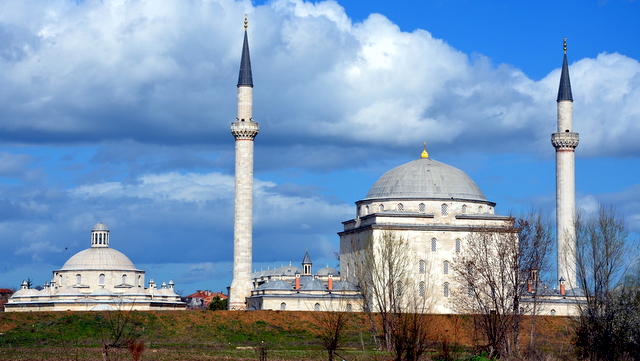 The complex sits in splendid isolation at edge of town surrounded by rivers, fields and groves of poplars. Its gray stone walls and gilded domes are simple, elegant and beautifully spare. I walked out there from the center of town and it took only a half hour and was an enjoyable and interesting walk through residential neighborhoods and farm fields.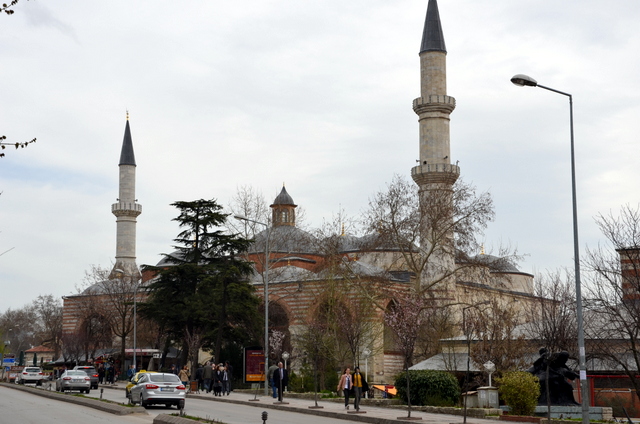 This is one of my favorite cities in Turkey! I spent 5 days here walking the streets, eating great Turkish food, sitting in cafes and parks feeling like a traveler who could stay here for months and still enjoy the feel and flavor of the most non-touristic place that I visited in my months in Turkey. One would be hard pressed to even find a postcard in the small shops lining the streets around the main mosque.
Put it on your itinerary when you visit Turkey…especially if you are on your way to Sophia Bulgaria.