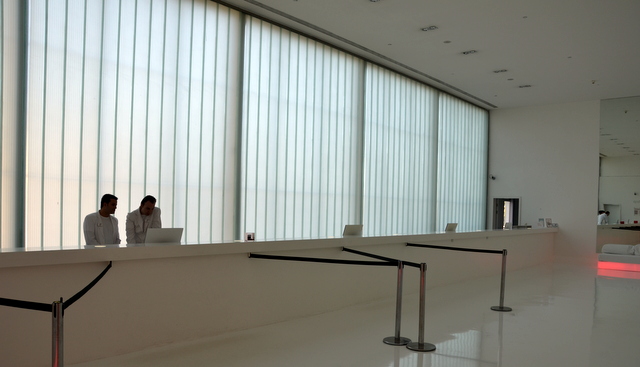 To say Turkish Minimal is an oxymoron for sure. If you have seen Turkish furniture, carpets and drapery treatments you would know this to be true. The normal Turkish Style is a cross between Bulgarian Baroque and Brooklyn Rococo and it isn't pretty.
While out for a walk on day in Antalya, Turkey I discovered the Hotel Su which was designed by the Turkish architect Eren Talu. This was the most minimal commercial space I have ever been in.  A white on white palate with splashes of raspberry colored lighting accented by huge mirror balls in the lobby that would make the trendiest nightspot green with envy.
The hotel and its manicured grounds are perched on a hillside with views of the Mediterranean Sea and the skyline of coastal Antalya. It has 253 rooms and 39 suites and as you would expect lots of Spa facilities.  It is also within walking distance of the Migros Mall, the new Aquarium and the Cultural Center… making it a great place to stay for the well heeled….rooms start at 200 Euros. Obviously less cost more.
This is going to be a short piece because I cannot find any biographical data on the architect except that Eren Talu was born in 1960 and educated in Turkey. He has other hotels and public buildings to his credit and appears to be a very public figure in his private life (marriages and divorces). However I can find nothing in the search engines with bio information. If you find something more let me know.
So what you are getting here is a short blog with pictures of simple interiors.