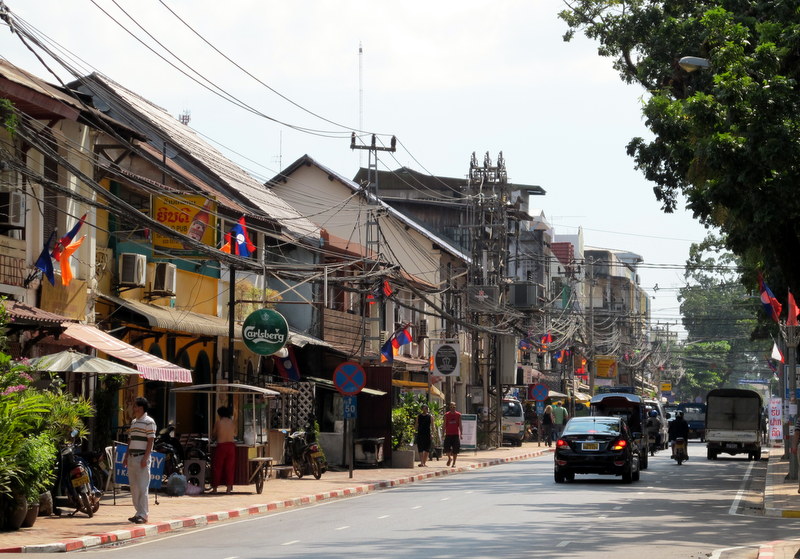 After leaving Luang Prabang we headed to Vientiane to check out the Capitol of Laos.  I had already been warned that as a city it was not much…little to see and not much to do. The reports were right on all counts. Vientiane is the smallest and without a doubt the sleepiest Capitol in all of South East Asia.
The remnants of the old French Colonial days are everywhere and add a sense of down at the heels gentility to this rapidly growing city. Narrow lanes draped with spaghetti like jumbles of cables and wires plus the overabundance of traffic reminded me that Vientiane is moving into the 21st century… but at what cost.
This city which grew from 200,000 in to 2005 to 726,000 in 2012 is following the rest of the developing world in its migration from rural areas to the mega-cities. However, in a country where the average income is only $1,010 per year and 75% of the people are employed in subsistence agriculture resources are stretched thin and it is evident in the capitol city …dark streets many of which were dirt and poorly maintained infrastructure. I am accustomed to this in the Third World and did not feel unsafe just a bit sad for the people.
Aside from visiting a few temples, silk weavers or a market what was there to do? We did arrive in town several days before the annual Vientiane Boat Racing Festival which because it is a really big deal in Laos lent a festive mood to our stay.
Over twenty teams from all over Laos paddle/row the long narrow dragon boats on the Mekong River for prize money and glory. While the trials and practices are going on three day prior to the race Fa Ngum road plus the other streets leading to the river are lined with stalls selling clothing, food, fruit drinks, sideshows, pop-the-balloon booths and carnival rides. Thousands of people filled the heart of Old Town every evening. Sad to say, we were scheduled to leave the day before the boat races…I back to Chaing Mai and Derrylyn and Laura onto Siem Reap, Cambodia.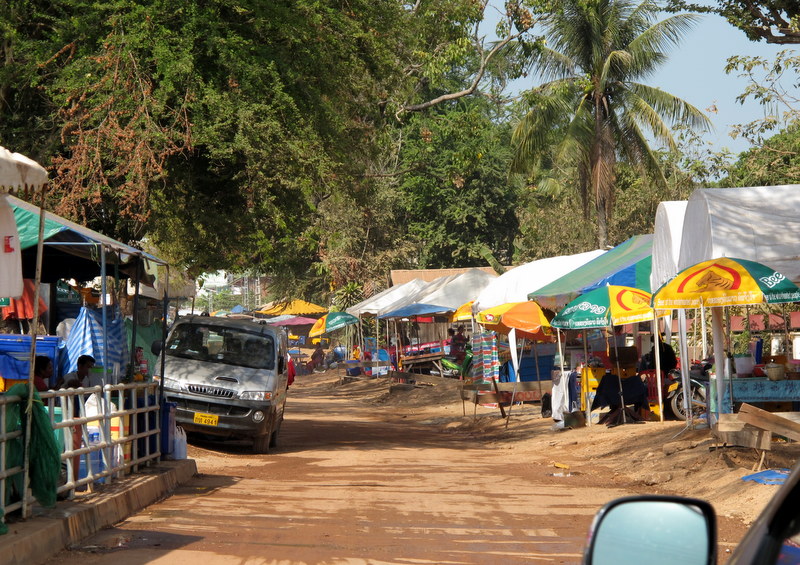 Before we left though we made sure that we had time to sample the superb French food available in town.  Once again we gorged ourselves on wonderful bread -all of us living in places where good bread is almost non-existent- pastries and pate. Of course, we were forced to try some delightful wines as well…we took turns twisting each other's arms…as if it was really necessary.
In the mornings I would head to Le Croissant d'Or for coffee and the flakiest croissant east of the Alps….Yummmmm! For lunch we might go across the street to La Terrasse for a glass of wine, the menu of the day or perhaps a salad nicoise and wile away much of the afternoon. Our final evening in town Derrylyn and Laura treated me to a lovely evening at the dining room of the Settha Palace Hotel…La Belle Epoque. The room was beautifully appointed and service was on spot. After our dinner we were driven back to our hotel in a restored London Taxi and I thought…we is in high cotton now.
My trip to Laos was ending but I was taking away great memories of a lush and beautiful landscape populated with gracious, smiling people…not to mention a burgeoning waistline..All of which made for a great trip.
Check it out…I think you would fall in love with Laos…I know that I did.