Wadi Rum is perhaps best known as the hangout of T. E. Lawrence (Lawrence of Arabia) when he made this his headquarters during the Arab Revolt in 1917 – 1918 Lawrence wrote about the monumental landscape in Seven Pillars of Wisdom in the early 20th century with a sense of awe and reverence.
The crags were capped in nest of domes, less hotly red than the body of the hill; rather grey     and shallow.  They gave the finished semblance of Byzantine architecture to this irresistible place: this processional way greater than imagination….Our little caravan grew self-conscious, and fell dead quiet, afraid and ashamed to flaunt its smallness in the presence of the stupendous hills.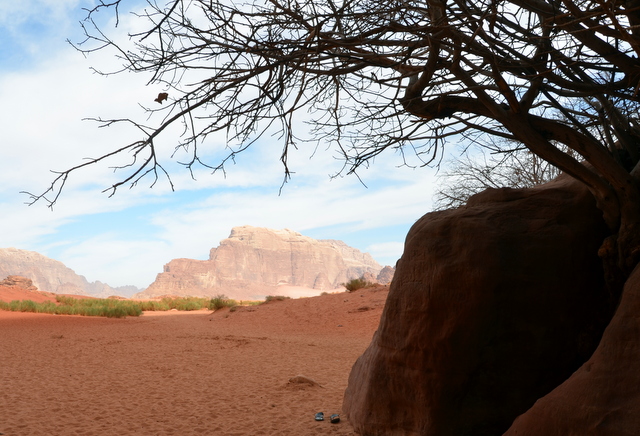 Located about an hour and a half south of Petra and an hour from Aqaba it can be visited as a day trip but I recommend that you stay a night or two in the desert for a deeper appreciation. I stayed only one night but could easily have stayed one more. Sleeping in a Bedouin tent in a soundless, sand filled landscape with only the light of the moon to light the scene is a memory that I will long cherish.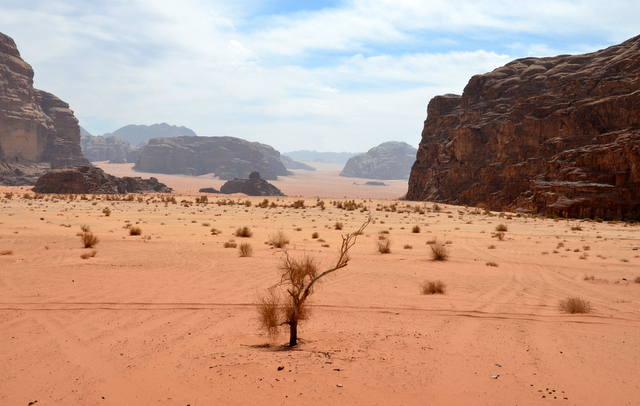 Wadi Rum…also known as The Valley of the Moon is a landscape that may be familiar to you even if you are unaware of it…it has been used as a set for such movies as Lawrence of Arabia, Red Planet and most recently Ridley Scotts  Prometheus in 2012. Large spaces filled with red sand, towering peaks and blunted buttes offer an awe inspiring vista that must affect even the most jaded travelers.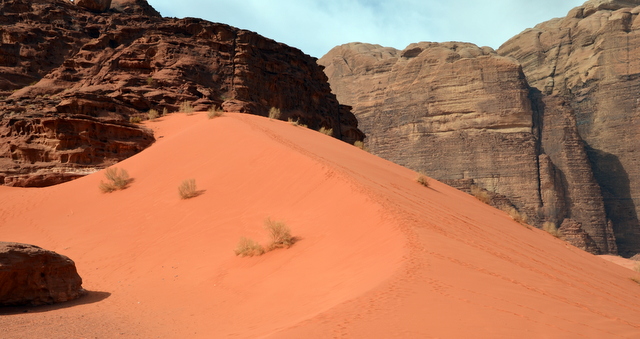 It is everything you would expect of a quintessential desert …broiling heat in the summer and intense cold in the winter:  violent and moody the sun cuts into the valleys and siqs accenting the rock formations with deep shadows and the strong wind forms red sand into dunes at the base of stone out-cropping's. It is almost enough to inspire me to put on flowing robes, hop on a camel and ride across the sands….almost but not quite.
There are several ways to explore the Wadi…4 wheel drive jeep, horseback or on foot with a guide. I am willing to bet it was not hard for you to figure out which way I picked…4W drive of course. No roads exist …only tracks in the sands that come and go with the winds. The ride is not smooth…sitting in the back end of an open jeep I was often bounced, bumped and thrown off my seat… but the scenery transcended all the discomfort.
Along the way we saw 3rd century BC petroglyphs carved into the rocks by the Nabataens who made this area their home and springs used for centuries by the Bedouins who heard sheep and goats in this harsh landscape.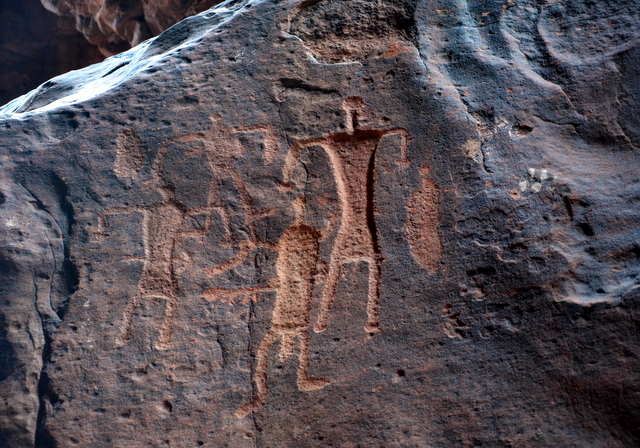 After a day of exploring the stone formations and valleys we headed to our Bedouin camp for the night. A group of small black wool tents around a large central tent in which we would eat and congregate.  Traditional hand woven rugs were laid over the sand and cushions with pillows lined the walls of the tent for us to relax on while Walid, our guide, made herb infused teas for us. No electricity to light the tents meant that I was scrambling to find the flashlight I always carry in order to find my bed.  Boy, it was dark.
The next morning we had a typical breakfast of eggs, bread, fruit, tomatoes, cucumber, white cheese and tea before we rode off through the valley to the visitor center where our driver would pick us up and return us to Petra for a ride back to Amman.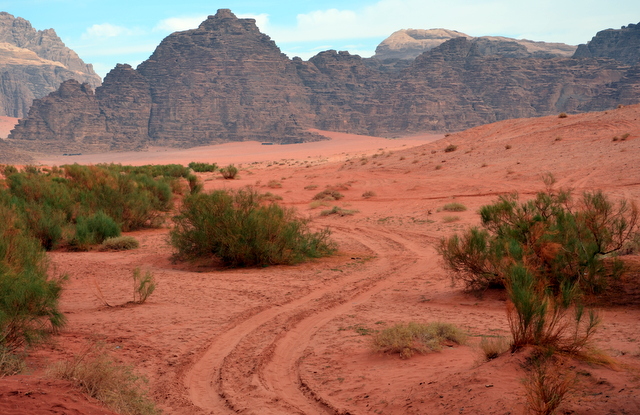 I loved the visit…the landscape, the Bedouins, the desert experience and would heartily recommend it to any traveler coming to the area.  Combine it with your visit to Petra and it will be a National Geographic moment for you to recount over and over for many years to come.
Now it's back to Amman and then on to Turkey.