In The Hood…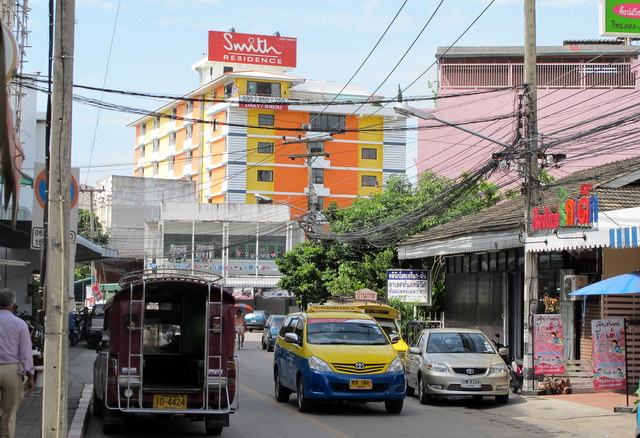 A block from my serviced apartment, the Smith Residence, is the Chiang Mai Gate a busy spot on the south of the walled city.  I should explain that the old City of Chiang Mai is surrounded by a 700 year old moat and brick wall.  At various points where the walls are still intact there are gates that are gathering points for what's hip and happening.  Chiang Mai Gate being one of them has some of everything and is busy from morning till night!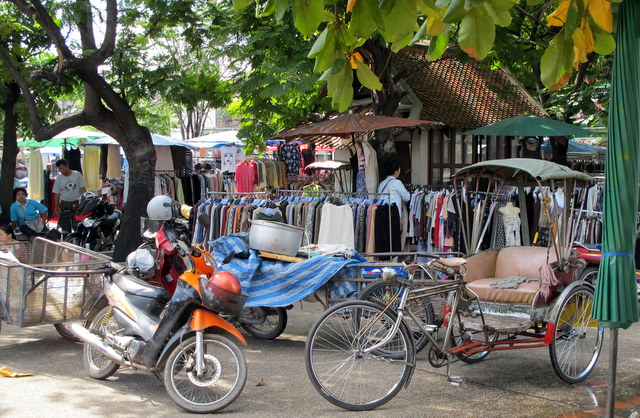 Mornings at the Gate
In the morning there is a market to sell used clothing as well as fruits and vegetables. Next to where the clothing is hung out for sale, the food cart supplies spicy noodles to the Thai's having a morning beer and cigarette.  These guys sit there seemingly unfazed by the hubbub going on around them. A mix of Thai's out for the morning grocery shopping, farangs (non Asians) snapping pictures, counter culture types in dreadlocks and harem pants just hanging out and an occasional drunk passed out on a bench or flower box.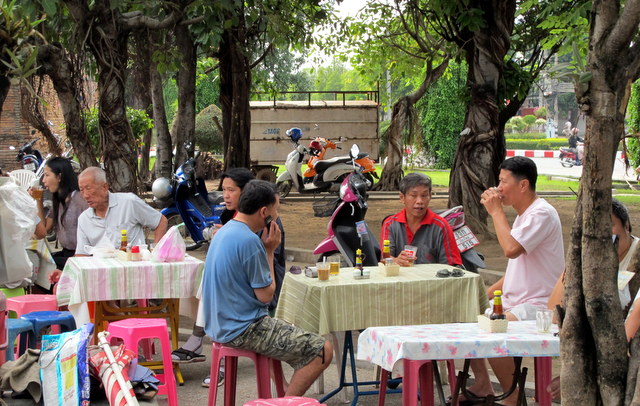 Across the street from the little plaza where the clothing is displayed are vendors lining the street, some in stalls and others with just a sheet of plastic laid on the ground. Here is where the locals get their fruits and vegetable at a fraction of the cost that one would pay in a super market.  Here I can buy five lime's for 5 Bhat (31 Bhat to a dollar) but at the grocery the same five limes would cost 35 Bhat. Just to put it in context the average Thai makes 5,000 BHT a month ($161)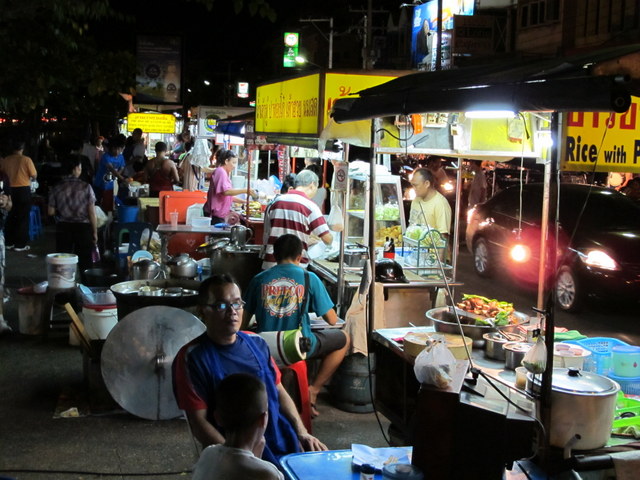 Nighttime at the Gate
In the evening everything changes!  The small plaza is filled with rickety tables, plastic stools and a sea of motor scooters. Backpackers, expats and locals all head to Chiang Mai Gate for cheap eats or one of Ms Pa's famous fruit drinks. There is plenty of spicy food and cold beers to tempt even the least adventurous traveler into tempting fate and diving in. But be prepared, the chili peppers used in Northern Thai cooking are hotter than hell and they love to throw an hand full in  most dishes…….Yikes….More Water Please!
It's impossible to take it all in and process it.  So much texture! So many layers! Strange customs that make no sense to us westerners!  I expect as I write my observations you will hear me say "I don't get it "so many times that you will begin to think that I'm clueless….and you might be right.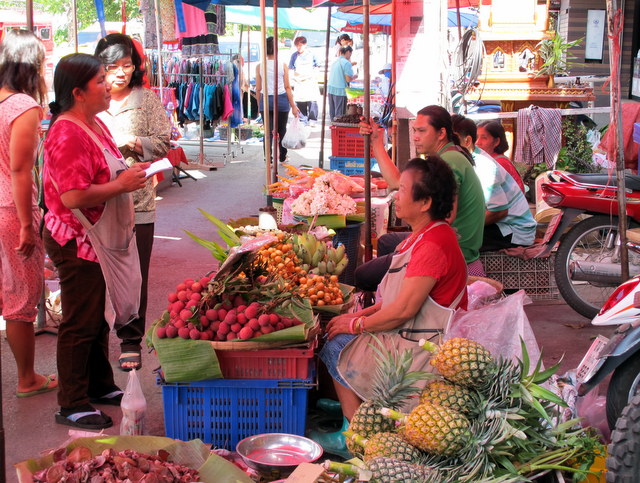 For now I get up in the mornings and head to the market to buy fruit and check it out for photo ops and then start my wanderings from there.  I'm working on my photography skills as I go along and trying to improve a little each day.  Now, some of you might find this funny considering I went around the world last year and did not take one picture…….and of course my friends never let me forget it.  But times change and I'm hooked on trying to find the most interesting, colorful, entertaining and informative shots I can to fill in my blog.  Feel free to give me feedback on how you think I'm doing.
Welcome to my new neighborhood…..it's a beautiful day at the Chiang Mai Gate!