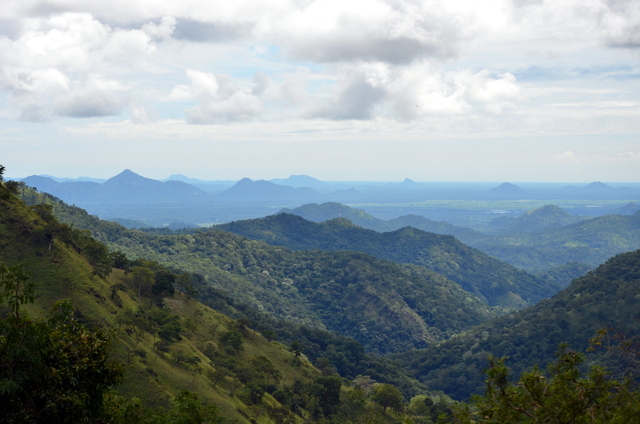 For those who only think of golden beaches lined by palm trees when they think of Sri Lanka there are many surprises in store for you. The center of the island rises to 7,300 feet at its highest point and is filled with stony outcroppings, raging streams and dramatic waterfalls.
My friend Paula and I left Kandy by private car after staying far too long in a town with limited diversions and even more limited food choices and headed up towards Nuwara Eliya. We were heading into the heart of the tea plantations and the remnants of English Colonialism.    The guidebooks describe Nuwara Eliya as an old English village so I expected a town green with an old stone church and lovely cottages with rose gardens but this is not quite it. While there are touches here and there of jolly old England it still felt like Sri Lanka.
A visit to a tea plantation is a nice stop on the drive up into the hills…with a guided tour and a free pot of tea it is worth the time. I learned a great deal about the history, production and marketing of tea in Sri Lanka…which by the way is one of the major tea exporters in the world.
The town sits at 6,000 feet and is cool and rainy. It surprised me to learn that this area is the vegetable basket of the island. Due to cool temps they can grow lettuce, leeks, potatoes, cabbage, beans, egg plants, carrots, onions and any other vegetable that is grown in more temperate climes. It appears that almost every home in the town uses is front yard to grow vegetables instead of grass and outside of town most property is terraced to increase their growing area.
I walked the town visiting old hotels and formal gardens in between the rains which continued to dog my trip to Sri Lanka.  In the middle of the town they had a golf course with a stuffy old club and a horse racing track. In nicer weather I might have spent a few more days here but it was cold, damp and dreary so it was time to move down to the coast.
On the way through the mountains going south we encountered some of the most dramatic scenery of our trip to Sri Lanka. Craggy peaks, lush jungles of palm trees and numerous waterfalls made the drive a head swiveling adventure as we tried to see it all as we snaked down the hills.
Our destination was Tangalla on the southern coast of the island. Reportedly the town had some of the best beaches in SL …I was anxious to head to the sun and away from the rain. Four days of wandering around a beach town and eating fresh seafood sounded like just the thing after four weeks of rain and grey weather.
It turned out to be just what I imagined it to be…shacks on the beach with cold beers and the waiter bringing out the catch of the day in a bucket for us to choose from. One thing I learned is that they overcook everything in Sri Lanka so the fish was not the tasty treat I had dreamed of but to be in the sunshine on a beautiful beach over came any objections I may have had to the chef's culinary skills.
After 4 days in Tangalla we will be off to the Old Dutch stronghold of Galle before heading out to the Middle East.