Well OK, I am exaggerating just a bit! I am not running from the flames just the smoke. But we all know where there is smoke there is fire! Every years the farmers in Northern Thailand burn the fields and the underbrush in the forest to make way for the next growing season…rice in the fields and mushrooms in the forest. They start the burning in February and by March the air quality is a nightmare…old people and young children with respiratory problems drop in their tracks gasping for breath. Chiang Mai and northern Thailand has more than double the rate of lung cancer than the rest of the country. When I look out my apartment window I normally see Doi Southep a 1,675 meter (5,500 ft) tall mountain about 9 miles away. This year by the middle of February most days I could not even see the outline of the mountain,  so I knew it was time to hit the road.
I could have taken a month off somewhere in South East Asia where the air was cleaner but the US Dollar is doing so well I thought a trip to Europe was in order. I have been reading how cheap Portugal is supposed to be so I wanted to do some recon work on my next place to live for awhile. It has been a long time since the euro was $1.08 to the dollar. I have been there when it was almost $1.60 and I can tell you it gets really, really expensive very quickly.
I booked a ticket for Madrid so I could get out of Chiang Mai before the smoke hit it's peak…although I could not imagine that it could get any worse. Of course, I was wrong it got much worse…so bad in fact that they had to close the airport several times due to a lack of visibility  Plus it was going to be good to get back to the first world…sidewalks, public transportation, potable water and art museums. And not to mention the availability of good wines and tapas to go with it…..Yummm.
I found a nice hostel…Hostal ABADIA…about 3 block from the train station, the Prado Museum and the main parque. It was a perfect location for me because I had come just to walk the city and hit the art museums before moving on to Portugal. This was going to be my second visit to the Prado Museum and even though I had been to Madrid several times in the past 10 years I never went back to the Prado. I was disappointed on my first visit after having read about it for years as one of the worlds great collections…it just didn't grab me. Those of you who read my blogs know that I vista a lot of Museums on my travels…it is one of my great passions along with architecture and food. I wanted to give the Prado one more chance because I imagine that I might not come back to Madrid again.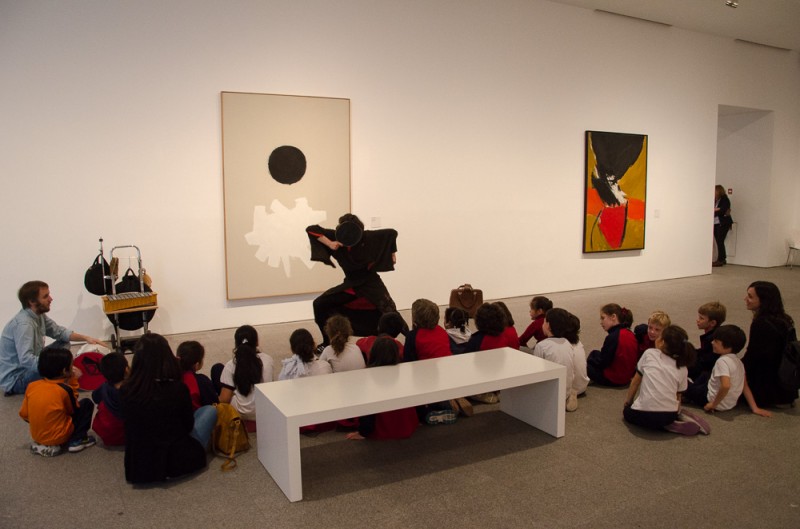 Saw by chance while visiting the Renia Sofia Museum a performance artist explaining the the painting "Black Plus White" by Adolph Gottleib to a group of grade school kids through dance. She was accompanied by a percussionist…not a pip out of the children durning the performance.
I find as I have gotten older my appreciation of art has evolved…painters that I once gave a cursory look to I now find I am enamored with. Schools and periods of painting as a young person I pooh poohed I am now an avid fan of. It was the case with this visit to the Prado!  I loved my visit and was at times overwhelmed by the beauty of a painting and the masterful technique of a painter . It appeared that all the galleries have been newly painted in wonderful rich earth and jewel tones which made the paintings pop off the walls. At the same time it seems to me that a great many of the masterpieces have been cleaned so that the colors jump out and draw the viewer in. One school of painting I have come to admire in my old age is the Flemish painters from the 15th century… Hans Memling and Rogier Van der Weyden in particular. The Prado has in its collection the painting by Van der Weyden…Decent From The Cross…a brilliant painting that had me mesmerized. Large in scale and stunningly complex in its composition I could have stood before it for hours.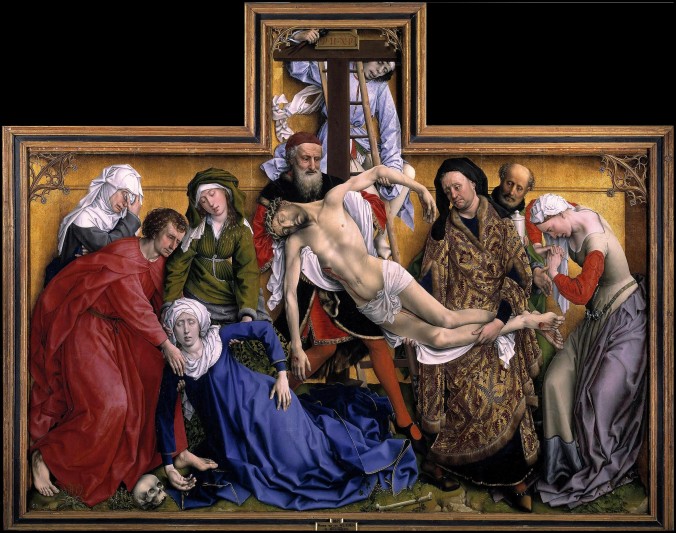 Only four days in Madrid to decompress from Asia and get reacquainted with first world culture…but it was enough. The capitol cities hold less and less appeal and now I want smaller cities like the ones I would find in Portugal. Off I go again.