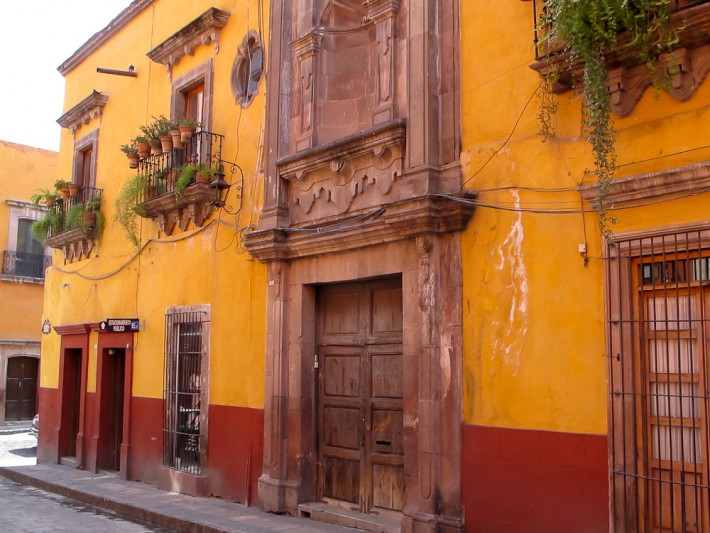 After my drive across America following the Lewis and Clark Trail I was looking for a new place to hang out and see if it was "the place". I am always looking for that mythical, elusive perfect place to live and several friends had moved to San Miguel de Allende and all extolled the virtues of this Mexican hill town….I thought it might be nirvana, so off I go.
San Miguel de Allende is one of the old colonial silver mining towns located north of Mexico City in what is called the Central Highlands. Several regional airports serve the towns of the Central Highlands….Leon and Queretaro…they both offer service from the US. Si flew into Leon via Dallas and once there it was easy to take a shuttle service over to San Miguel de Allende That had been arrainged by my friend Linda Rose.
San Miguel is a gem of colonial architecture and the town has been attracting expats since Sterling Dickinson, a wealthy American artist, arrived in the late 1930's and opened an art school. After WW ll the town attracted those expats who wanted to live cheaply and study on the GI Bill.  San Miguel was in danger of becoming a ghost town before Sterling Dickinson started to rescue homes and notable buildings. Soon after, other wealthy expats came and the revival was off and running. Today this UNESCO World Heritage Site is one of the biggest tourist attractions in Mexico.
You always see San Miguel as "a colorful colonial town" and that is true as far as it goes,  but the palatte is limited…sienna, yellow ochre, burnt umber are the primary colors one sees on the buildings of the old colonial buildings located in El Centro. This dull palate is broken up with the riotous colors of the bougainvillea, pots filled with geraniums and the purple blooms of the jacaranda trees.  Every where I walked small flower filled courtyards with slowly dripping centuries old fountains invited me in. Plenty of small cafe's in these courtyards offered a good excuse to spend a hour or two reading, relaxing or meeting people for conversation. 
The town is mostly 17th and 18th century and the stone paved streets roll up and down the hills upon which it is built.  At 1,900 m (6,200 f) the altitude is not for everyone…myself included. When I lived in Cuenca, Ecuador the altitude which is a third higher really killed me but I thought San Miguel being lower would be doable. NOT…I was still gasping for air as I hiked the streets and hills of the town. Damn, there goes my dream of this being "the place". Aside from the altitude the cobblestone streets and high curbs can be difficult to negotiate.  Those cobblestones look great in the travel guide pictures but strolling around in your flip flops is going to lead to trouble.
The heart of the town is the Jardin Principal or the main garden. Of course everyone calls it "the Jardin" and expat or native, young or old, resident or tourist…everyone winds up here at some point to sit on a bench under the topiary Ficus trees and watch life unfold while avoiding the noonday sun.. I will be the first to tell you, watching life unfold is easier with a luscious ice-cream cone in ones hand.  The beautiful old square surrounded by 17th century buildings also houses the church called Parroquia de San Miguel Archangel.
What comes to most peoples minds when they think of San Miguel is the Parroquia. It is what graces every postcard and every travel poster for San Miguel. The steeple is lit at night and can be seen from almost every neighborhood in town.  A new gothic facade, added to a 17th century church in the 1880's, is modeled after Gaudi's church – Sagada Familia in Barcelona. It is a confection piece that everyone ogles but the interior is lackluster compared to the exterior.
My friend Linda Rose went on the hunt for a place for me to live even before I arrived. It was great having a friend who knew the city to do the leg work. Talk about painless…a nice little apartment with a lush garden just out of El Centro was waiting for me the day I arrived.  Sometimes it just all works out.